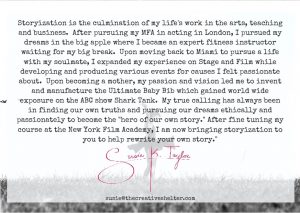 Learn the actor's techniques for getting OUT OF CHARACTER because sometimes you just need to let go and be free.
at

APRIL 16-May 8th Monday at 9am-$18
6310 NE 2nd Ave, Miami, FL 33138
When: TBD!
Dress: Barefoot and in clothes you can move in
PLAY with
Mediation, Energy Work, Sound healing, Sensual Movement and
Acting Techniques!
Learn how to find your inner self and move from there, understand your situations through movements and begin to make conscience steps to recast yourself and be free.