Ever since I was in high school I was drawn to South Beach. My best freinds and I woudl even risk detention and more by forging doctor notes to get us excused from skipping a few periods of class. Reason being we had wanted to see if we could get from our school to the beach on a Bus. I have no idea how we managed it becasue I am a Jewish girl from Miami and a BUS was not my mode but on we went and over th bridge we went and giggling we went till our feet hit the sand. In jeans we'd drop back and let the sun ignite our souls..buy bathing suits from the woman passing my and eventually bid adue and hop on the bus and head back to school just in time I suppose to grab the metro rail home.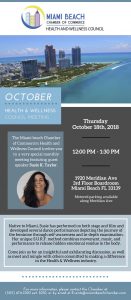 SO before I could drive I was drawn there so it makes sense I would spend my days there now too. I hang out at SOHO house often and teach a class on WEst at Tropical Vinyasa and on Thursday the 18th of October I wil be speaking for the first time in public about my class for the Miami Beach Chamber of Commerse Health and Wellness committee. My FIrst Power Point presentation and I have testimonials and photos and videos as examples of the why and how. Four years of work to find the meaning of it all…FREEDOM….
I am honored to live this life….Becasue all day long
I am auditioning, getting cast in well paying gigs, part of a Shakespeare company that reads plays on scrolls, teaching my class, performing with a theater company in an interactive piece, shooting an indie shot film that is paid! and building a show for the Fringe and about to cut a voice over tape. I am a working actor. My acting is first and then my classes fit in between and in that I am just always saying yes please- more please…can a happy Actress exist? That was my question and the risk I was willing to take and the answer is … FOR SURE….BRING IT!